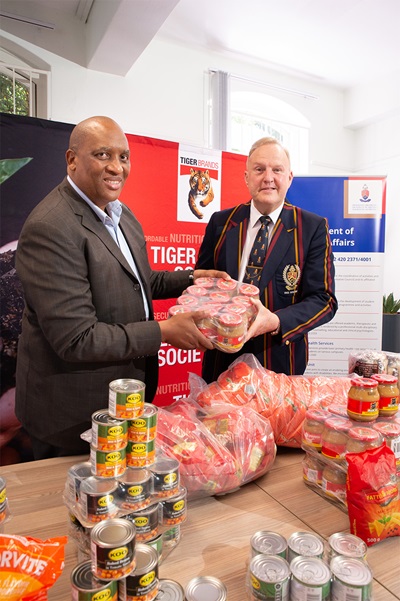 The University of Pretoria accepts a Plates4Days delivery on campus to distribute to qualifying students
In South Africa, more than 6.8 million people or 11% of the population go hungry every day and household food security is at threat.
Food insecurity has been recognised as one of the key challenges affecting students in higher education. Studies carried out at South African higher education institutions have found a close correlation between hunger and academic success. Without access to sufficient nutrition, students are less likely to progress in their studies.
Plates4Days was initiated in 2008 when Tiger Brands recognised the need to support higher education students who did not have access to nutritious meals and often went hungry for days.
The programme benefits more than 5 000 students at 7 universities across South Africa and has had a significant impact on the lives of beneficiaries.
Solethu Ngubombi, a University of Western Cape student, who comes from a low-income household, says that at the start of his tertiary studies he battled with access to funding, including meals. He says the Tiger Brands Plates4Days programme helped to ease the burden of how to feed himself. And he has witnessed the positive difference the Plates4Days programme has made in the lives of his fellow students. "With Plates4Days us students have access to basic nutrition, which plays a huge role in us being able to cope better with the academic programme," says Ngubombi.
With an annual spend of close to R7 million, Plates4Days gives students access to a nutrient-dense and fortified food hamper designed to sustain them throughout the month.
"Food insecurity remains a debilitating challenge for thousands of university students who struggle to access food daily, leading to lower levels of concentration and fatigue, missed lectures and ultimately higher drop-out rates.
"While the challenge of food security continues to consume many South African households, Plates4Days which has been supporting local university efforts to alleviate student hunger for 14 years, will continue to help future leaders focus on their studies instead of where their next meal will come from," says Preeya Naidu, Socio-Economic Development Manager, Tiger Brands.
Plates4Days Quick Facts:
7 universities across 10 campuses:
Nelson Mandela Metropolitan University
North-West University
University of Free State
University of Johannesburg
University of Pretoria
University of Western Cape
University of Witwatersrand
5 209 beneficiary students
R6.5 million annual spend