As Tiger Brands, we are an agile, ambitious and consumer-obsessed team, energised to explore and embrace uniquely African FMCG experiences.
If you are looking for an exciting career in a multinational FMCG business, then Tiger Brands is the place for you to work and play as ignite your passion, grow our brands and grow our business. Explore the vacancies we currently have available @TigerBrands.
YOUNG
TALENT
At Tiger Brands we are always on the lookout for energetic and innovative young people to groom into our future leaders.
Apply here for our young talent opportunities.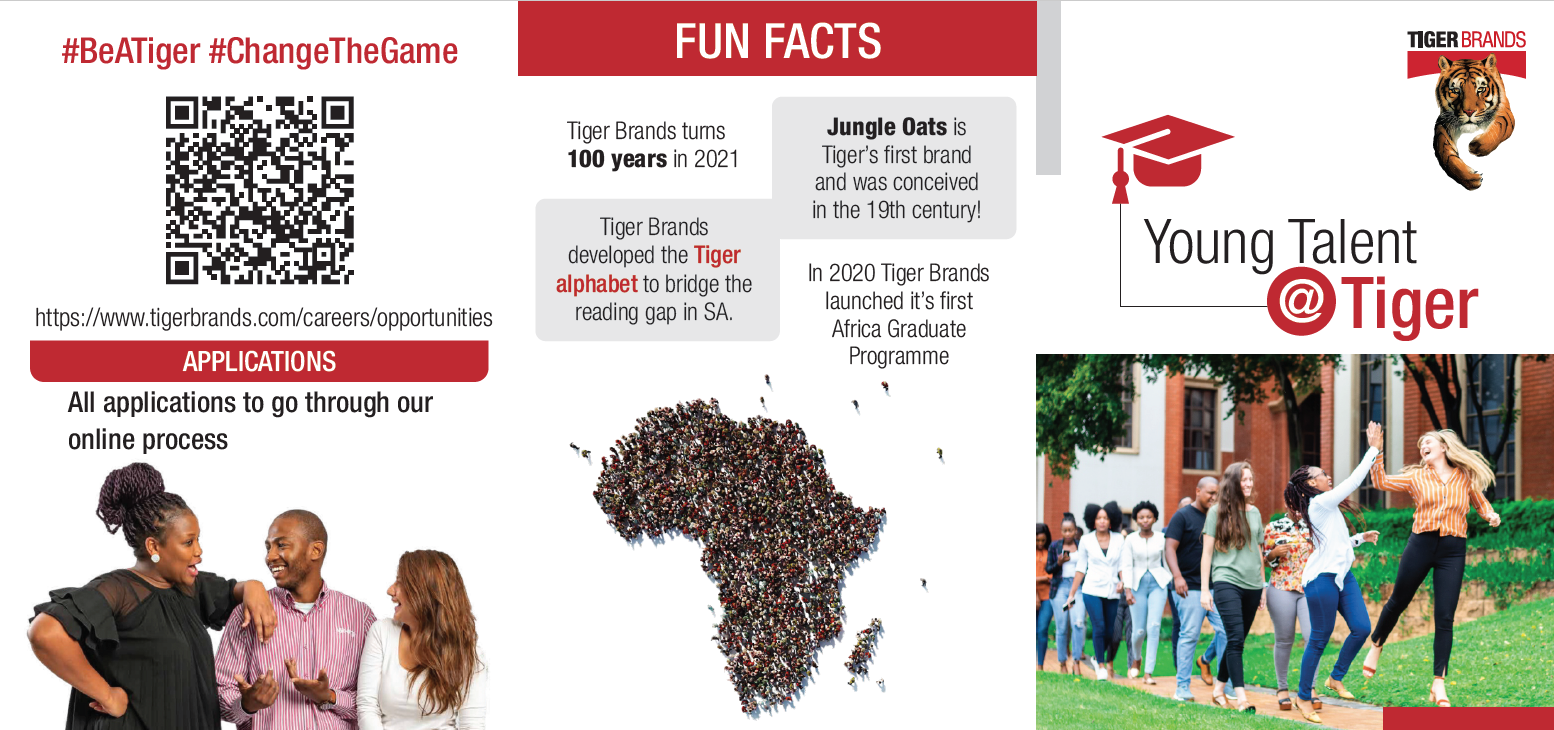 Management Trainee Programme

If you are a new graduate or are in your final year of study, we are looking for you!

Workplace Experience, Internships & Learnerships

Tiger Brands is accredited with the FoodBev Seta and provide a number of opportunities in line with the SETA's requirements.

Work Experience, Work Integrated Learning or In-Service Training refers to the period required by certain qualifications for students to obtain formal work experience. This period is formally monitored by the institution and assessed on completion. The qualification cannot be obtained without the completion of this prescribed programme. Tiger Brands places 'Workplace Experience students' or 'interns' on fixed term contracts to gain practical experience and complete their qualification. 'Workplace Experience students' who have successfully completed their work experience period and obtained their qualification can apply to join the Tiger Brands Management Trainee programme or for an appropriate vacant role within the group.

Successful candidates, selected for the workplace experience programme would have a sound academic record at an accredited institution and require an in-service training period to complete their qualification.

APPLY BELOW:

2022 Mechanical & Electrical Engineering Intern
OUR KEY
WORKPLACE FUNCTIONS