Several Tiger Brands manufacturing sites are led by women plant managers, including at its Snacks and Treats factories, its two bakeries and its King Korn factory
Johannesburg. 8 August 2023. Tiger Brands has committed to growing the number of women who occupy roles at its manufacturing operations across South Africa for more equitable participation in the sector across genders, as well as increasing the number of women in leadership positions in the traditionally male-oriented setting. The food manufacturer, to date, employs close to 4 000 women across its manufacturing sites.
The food manufacturer took the opportunity to celebrate some of its leading women in manufacturing this Women's Month.
According to the National Department of Trade and Industry (2020), of the total number employed in the South African manufacturing sector, women made up less than 25%. The sector's contribution to GDP of 13% offered opportunities for further job creation and for increased participation of women.
"Tiger Brands is committed to increasing representation of women across its business. Our focus on developing more women to take up roles in manufacturing, and more specifically leadership roles in manufacturing, is evidence of our efforts to balance the gender scales in a sector that traditionally targeted men," says Derek McKernan, Chief Manufacturing Officer, Tiger Brands.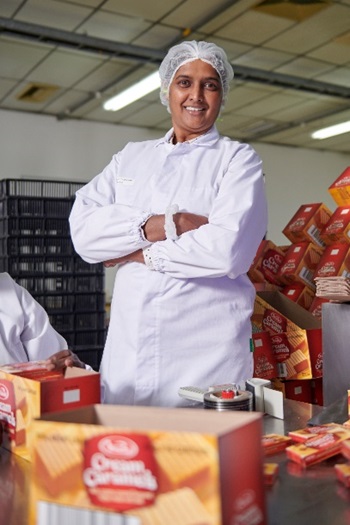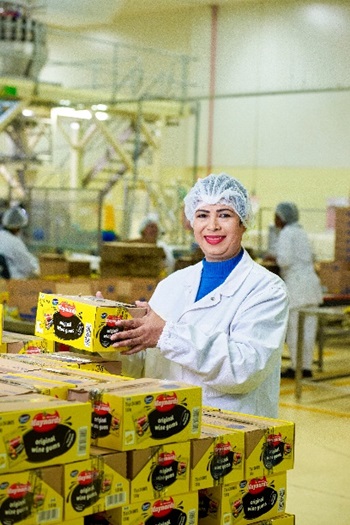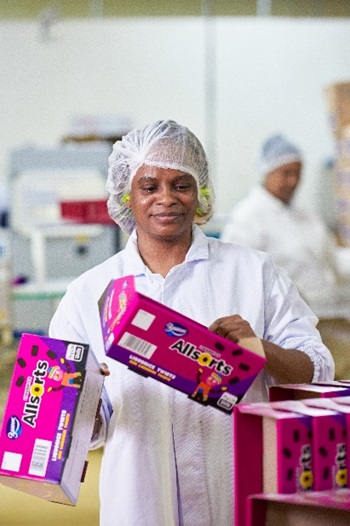 Image above: (From Left) Thiroshnee Govender, Quality Manager: Tiger Brands Chocolate and Candy Factory; Subashani Naidoo, Plant Manager: Tiger Brands Mallows and Jellies; Sherley Monyemorethoe, Plant Manager: Tiger Brands Candy Plant Manager.
Overall, Tiger Brands' target is to reach 50% gender representation in its leadership ranks by 2030 with a focus on increasing women's participation in leadership development, career growth and progression initiatives.
Increasing the participation of women within the business, including in manufacturing, begins with Tiger Brands' Young Talent programme, which actively recruits emerging leaders with the intention of building a strong talent pipeline of women that can be placed in key roles.
Some of Tiger Brands' Women Manufacturing Managers
Tiger Brands has exceptional examples of women leaders at some of its manufacturing sites.
Two of its three Snacks and Treats plants, which manufacture some of South Africa's most-loved chocolate and confectionary, are led by women plant managers. Subashani Naidoo is the Mallows and Jellies Plant Manager, and Sherley Monyemorethoe is the Candy Plant Manager. Fellow colleague, Thiroshnee Govender, is Quality Manager at the Chocolate and Candy factory, with the critical role of caring for the safety and quality of all produce and operations at the sites.
The Tiger Brands Bakery in Secunda, Mpumalanga, is led by a women Factory Manager, Nonto Myeni. And at its Durban bakery, both the Factory Manager, Cheryl Usher, and Bakery Manager, Sandra Pillay, are women.
A woman Plant Manager, Tiisetso Nkwana, leads Tiger Brands' King Korn factory in Potchefstroom, North West.
***
Subashani, who through a Tiger Brands bursary was able to further her education, helped head up the establishment of Tiger Brands' Jelly Tots factory in East London after the company acquired the brand a little over a decade ago. "Traditionally, the manufacturing sector has been male driven, but I never felt those barriers here at Tiger Brands. I was always encouraged to learn and grow".
Sherley encourages other women to pursue careers in manufacturing to, like her, "develop your skills whenever there is an opportunity and to be open to mentorship and collect as much knowledge as possible regardless of what you think you already know."
Thiroshnee says that opportunities to expand her and fellow women employees within her environment "have been abundant". One personal example, despite not having experience in Engineering, Thiroshnee was given the opportunity to learn and grow in an earlier role as a Process Optimisation Engineer at Tiger Brands' Mallows and Jellies plant.
Tiisetso is encouraged that businesses such as Tiger Brands are actively tackling issues of diversity and inclusion in the workspace. "There are increased growth opportunities for women with the manufacturing sector and there is greater focus on retaining female talent".