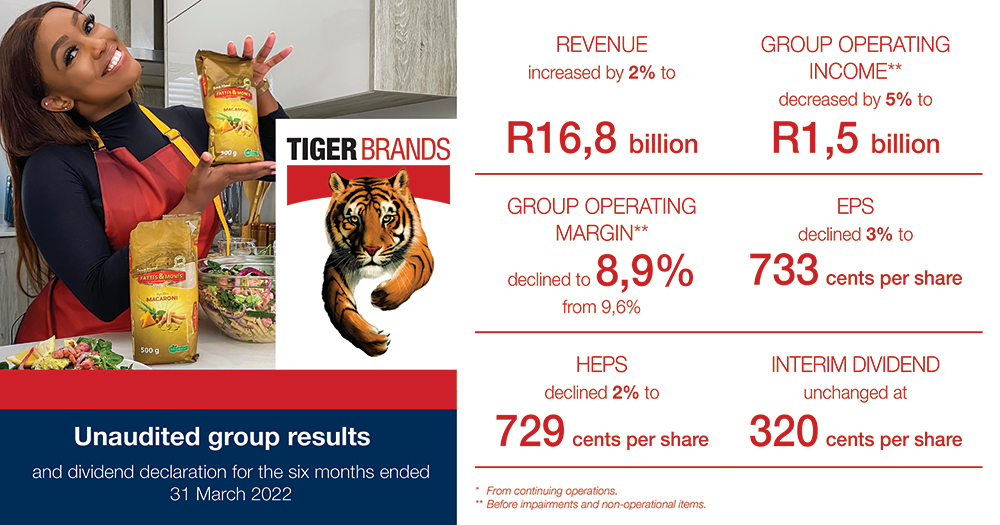 Johannesburg, 25 May 2022 - Tiger Brands' performance for the six months ended 31 March 2022 was impacted by a poor first quarter, driven by significant volume declines in Bakeries and a protracted strike at the company's Snacks & Treats division. This was compounded by the inability to offset the unexpected cost push through sufficient price increases and availability challenges on certain raw materials, ingredients and packaging. The group's improved top line and profitability in the second quarter fell short of negating the slow start to the year.
Total revenue from continuing operations increased by 2% to R16.8 billion. Volume growth in Exports and International was offset by domestic volume declines in Milling and Baking, Snacks and Treats and Home and Personal Care. Out of Home showed strong volume growth recovery in line with post lock-down demand and Rice, Beverages and Groceries delivered good performances respectively.
Cost-saving initiatives and supply chain efficiencies have been accelerated and are delivering ahead of plan. However, these were not enough to counter the high level of input cost inflation, resulting in gross margin compression to 29.2% from 30.6% in the corresponding period last year.
The board has declared an ordinary dividend of 320 cents per share for the six months ended 31 March 2022, in line with the interim dividend paid last year.
"We are acutely feeling the full impact of the global supply chain squeeze and related inflationary pressures in the level of cost increases coming through. We expect the challenging economic climate to remain with pressure on the consumer likely to intensify.
"In this environment, we are increasing our efforts to reduce costs and further drive efficiencies to minimise the need for selling price increases. Nevertheless, significant price increases across most of the portfolio are inevitable.
"Despite this challenging operational environment, we continued to build momentum on strategic priorities that are aimed at improving the long-term performance of our business," says Noel Doyle, Tiger Brands CEO.
During the first half of the financial year, total General Trade sales (focused on spazas, superettes, table-tops, hawkers and forecourts in the informal market) were up 11% led by Groceries, Home and Personal Care and Baby. The South African informal market is valued at approximately R164 billion per year according to Trade Intelligence. Efforts in developing product offerings and improving distribution strategies to expand our reach in this fast-growing segment remain a priority.
Through a strategic private sector partnership with the national Department of Small Business Development, Tiger Brands will work to further unlock the potential of the Township Economy. This collaboration, which was announced during the Minister of Small Business Development's Budget Speech in Parliament on 10 May 2022, will seek to integrate informal entrepreneurs in South Africa's townships into the formal food and beverage supply chain as active commercial distributors in their local communities. Initiatives under this partnership will include the provision of infrastructure, including warehousing and logistics, as well as other business support such as stock finance and technical skills.
In less than a year since it announced the launch of the Tiger Brands' Venture Capital Fund, the company also made its first investment in Herbivore Earthfoods, a business specialising in the manufacture and sale of plant-based and vegan products. The investment is aligned with Tiger Brands' health and nutrition strategy and taps into a growing segment. Together with co-investor Secha Capital, the investment by Tiger Brands will help scale the business and support Herbivore Earthfoods' growth trajectory as it aims to offer consumers more plant-based options that are tasty and affordable.
The Venture Capital Fund continues to assess new opportunities, as well as those existing within Tiger Brands' supplier pipeline, for potential investment.
Building on the progress made in 2021 in implementing an updated innovation strategy, the company's innovation rate is for the first-time over-indexing the market as it seeks to tap into areas that are critical drivers for consumer buying habits, including value, health and nutrition, and the growing trend to snack.
Tiger Brands has also improved its B-BBEE scorecard rating from a Level 3 to a Level 2 Contributor. This improvement positions Tiger Brands well to lead transformation in our industry in the coming years. The shift follows improvements in several areas across the business, including skills development for unemployed individuals, management control at the Board and Executive Director level and scoring maximum points available in Enterprise and Supplier Development.
Through its agriculture aggregator model, the company's flagship Enterprise and Supplier Development programme, Tiger Brands continues to increase the number of black smallholder farmers participating in its value chain. In the current financial year, four black-owned aggregators have received financial investments valued over R25,7m to service procurement contracts that positively impact more than 100 black smallholder farmers to cultivate small white beans, white maize, wheat, groundnuts, sugar beans, and tomatoes.
To access the unaudited group results and dividend declaration for the six months ended 31 March 2022, click here.