Johannesburg. 12 April 2022. In South Africa, where the current unemployment rate stands at a record high 35.3%[1], skills development plays an important role in increasing economic activity and opportunities for people to improve their livelihoods.
The Tiger Brands Food Handler Skills Programme, accredited by the South African Qualifications Authority (SAQA), is a food safety training programme that is geared at improving opportunities for employment to create sustainable livelihoods.
The programme has trained more than 500 individuals across the country, including food handlers in schools, which the Tiger Brands Foundation supports through its in-school breakfast feeding programme.
Training includes food safety, food handler hygiene and food preparation, as well as fundamentals of entrepreneurship to support participants to start their own businesses.
Recently, a group of 21 caregivers and youth at Kids Haven, a local NGO based in Benoni which cares for children in need, graduated from the programme.
Kids Haven is a long-time beneficiary of Tiger Brands' Social Economic Development efforts.
"What set Kids Haven apart is their focus on improving the skills and knowledge of their people as a means of improving their lives in a sustainable manner. At Tiger Brands, we understand the great need within communities and believe that through capacity building and skills development lives can be changed in a real and tangible manner," says Preeya Naidu, B-BBEE and Social Transformation Manager, Tiger Brands.
Esther Mahlangu pours her love of cooking into her caregiving role at Kids Haven where she has worked for the past 28 years. She says that the Food Handler Skills Programme increased her knowledge of foods she would not traditionally have used in her day-to-day cooking, adding healthier and more nutritious options for the children in her care.
"There are vegetables like brinjals that I had never heard of before and I actually had to google what it was and how to use it only to find out through the food handler course that it was a healthy and very tasty ingredient to prepare in meals," says Mahlangu. Over and above the critical skills acquired in food preparation and food safety, Mahlangu intends to transfer her newfound knowledge to women in her community and empower them to start a catering business, creating employment and an additional income.
Siyabonga Mabena is a natural entrepreneur and spent much of his earlier youth at Kids Haven. Now searching for opportunities to build a secure future for himself, Mabena grabbed at the chance to participate in the Food Handler Skills Training Programme, which he says helped him discover his creativity and to expand on his love of food. "I've already identified opportunities in the food industry to start my own business and the training I received has given me a good foundation to launch this dream of mine," says Mabena.
Jabulisile Roselinah Mhlambi, a caregiver at Kids Haven for the last 25 years, demonstrates a steadfast commitment to the health and well-being of the children in her care. The Food Handler Skills Programme, she says has amplified ways in which she can deliver on her responsibility to the children, including preparing healthy and nutritious meals for them. "I can identify aspects of health and safety that I never noticed before, from proper hygiene and why it's necessary, to keeping a clean environment when preparing food. My confidence in the kitchen has also improved, something that was never a real strength of mine," says Mhlambi.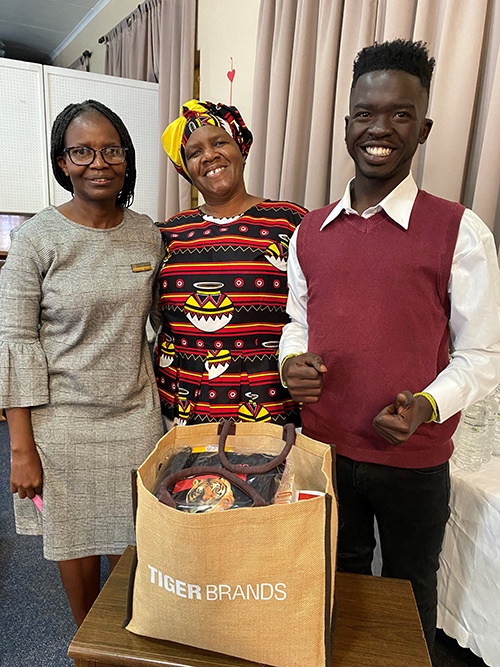 Graduates of Tiger Brands' Food Handler Skills Training Programme from Kids Haven, Jabulisile Roselinah Mhlambi (left), Esther Mahlangu (middle) and Siyabonga Mabena (right).