Johannesburg. 22 September 2023. Tiger Brands is celebrating Heritage Month 2023 with local dishes inspired by different South African cultural backgrounds, using local ingredients, many of them Tiger Brand pantry staples or heritage products.
Four Tiger Brands cooks - Arthur Ramoroka, Tiger Brands Corporate Nutritionists; Amukelani Kweyama, Tiger Brands Development Specialist, Riana Goosen, Assistant Customer Marketing Manager, Tiger Brands Food Service Solutions; and Sayish Naidu, eCommerce Manager at Tiger Brands – served up local fare inspired by their love of food and cultural backgrounds.
Recipes:
Arthur Ramoroka - Sorghum flapjacks served with peach slices and plain yoghurt and Mabele polenta with butter beans and spinach using King Korn Mabele
Amukelani Kweyama – Colour Blocked Robot Samp using ACE Quick Cook Samp
Riana Goosen – Melktert using Golden Cloud flour
Sayish Naidu – 'Big Mac' Boerie using Tiger Brands essential culinary pantry staples
***
SORGHUM using KING KORN MABELE - a super grain with exceptional health benefits
Arthur Ramoroka, Tiger Brands Corporate Nutritionist, uses the super grain, sorghum, with

Arthur Ramoroka, Tiger Brands Corporate Nutritionist, sought to inspire the use of sorghum in an everyday dish, this Heritage Month. A super grain with significant health benefits, sorghum is commonly used in the preparation of traditional dishes, more especially served as a breakfast cereal, stiff porridge, or a sour or fermented porridge called 'Ting'. Arthur says, like t
rice or maize, sorghum can be used to make a delicious side dish or a base for a main meal. Sorghum is nutrient-dense, gluten-free, and high in antioxidants. Its wholegrain goodness keeps you fuller for longer and is high in dietary fibre which promotes good digestive health.

Arthur used Tiger Brands heritage brand King Korn's Mabele, which is made with 100% pure sorghum, as the star ingredient in his two dishes - Sorghum flapjacks served with peach slices and plain yoghurt and Mabele polenta with butter beans and spinach.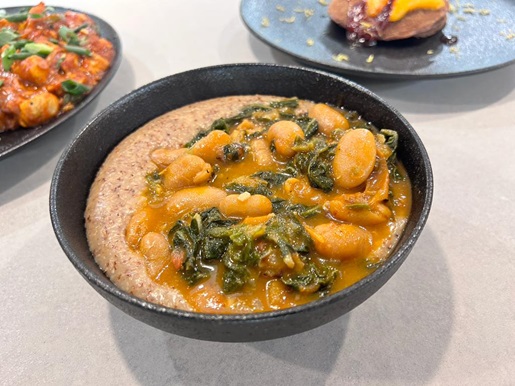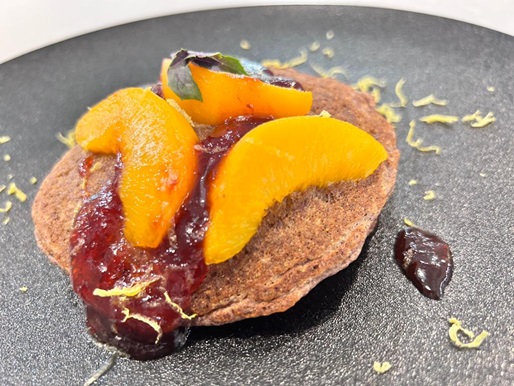 Sorghum flapjacks served with peach slices and plain yoghurt.
Serves: 4

Ingredients
1 cup King Korn Mabele Fine
1 teaspoon bicarbonate of soda
2 teaspoons of sugar
1 egg
1 tablespoon melted unsalted butter
1 cup maas/amasi
410 g KOO Sliced Peaches
½ cup plan double cream yoghurt
Sprig of mint, for garnish
Spray & Cook

Method
In two separate bowls, mix the dry and wet ingredients. Once combined, mix wet ingredients with the dry ingredients. Grease a pan with Spray & Cook non-stick spray and place over medium heat. Once the pan is hot, drop two dollops of batter into the pan. Cook until bubbles form and the edges are dry. Flip and cook on the other side for about 3 minutes. Keep the flapjacks warm in the oven. Repeat with remaining batter. Serve hot with KOO peach slices and dollop of double cream plain yoghurt and enjoy.

Mabele polenta with butter beans and spinach
Serves: 4

Ingredients
1 cup King Korn Mabele Coarse
1 cup of water
2 Benny Chicken Stock Cubes
1 cup maas/amasi
410 g KOO Butter Beans in Tangy Curry Sauce
2 tablespoons vegetable oil
1 onion, chopped
2 garlic cloves, chopped
2 whole tomatoes, chopped
500 g, fresh Spinach
½ cup parmesan cheese (optional)

Method
Polenta:
Bring 1 cup of water to boil in a large saucepan. Slowly add King Korn Mabele Coarse whisking consistently until there are no lumps. Dilute Benny Chicken stock cubes into 3 cups of hot water. Add about a cup of stock into the polenta and keep whisking, adding more stock as needed. Reduce heat to low and simmer, whisking often until the polenta starts to thicken - about 15 minutes. When polenta has thickened, add 1 cup of maas and stir with a wooden spoon. Polenta is done when the texture is creamy. You may add ½ cup of parmesan cheese.

Butter Beans and Spinach:
Heat oil in a large saucepan. Add onion and cook, stirring regularly. Add garlic and cook for 1 minute. Add tomatoes and mix well to combine. Add the spinach and stir until the spinach is wilted. Add KOO Butter Beans in Tangy Curry Sauce and cook for 5 minutes.

***

GOLDEN CLOUD FOR A GIVING, LIGHT AND FLUFFY MELKTERT

Riana Goosen, Assistant Customer Marketing Manager, Tiger Brands Food Service Solutions, shared her family's 'secret' Melktert recipe – Griet'kies Melktert, the methodology adapted from the original over time by her mother. Riana, who has 15 years of experience in the food sector, says it is the first recipe her mother taught her. Birthdays, church bake sales and funerals, have Griet'kies Melktert as the featured guest in Riana's memories. She says the recipe is 'technical' but that the trick to a successful bake is the Golden Cloud Cake Flour, which stabilises the custard and gives room for a degree of error. The flour also helps set the melktert so that you serve up a perfect slice every time. A strong cup of tea made with condensed milk is mandatory as a serving accompaniment to Griet'kies Melktert, says Riana.

Ingredients (makes 1 large melktert)
Crust:
125 g Butter, Room temperature
15 ml Sugar
1 Egg, large
1 cup Golden Cloud Self Raising Flour
½ cup Almond flour
5 ml Salt
Spray and Cook

Filling:
5 Eggs
1 lt Milk
1 ½ cups Golden Cloud Cake Flour
7,5 ml Salt
15 ml Vanilla essence or paste
1 cup Sugar
15 ml Sugar
Ground Cinnamon to dust over the top

Method:
Preheat the oven to 190°C.
Prepare a pie dish or spring form pan with Spray and Cook.

Crust:
Cream the butter and sugar.
Add the egg and mix well.
Sift in all the dry ingredients for the crust.
Mix the dry ingredients in until just combined. Don't over mix it as the more you mix, the more gluten is developed that will make your crust tough.
In a prepped dish, press the dough evenly to create the crust.
Blind bake the crust for 10 min until lightly golden brown.

Filling:
Separate the eggs, with the egg yolks in a large mixing bowl
Oven a medium heat, place half of the milk in a pot/saucepan to heat up
Beat the egg yolks and the other half of the milk
Add to the yolk mixture; flour, sugar, salt, and vanilla
Mix until smooth
Add some of the hot milk to the egg mixture a little bit at a time and mixing constantly
Once about half of the hot milk has been incorporated into the egg mixture, transfer it all to the pot, turning down the heat
With a whisk, stir and whisk vigorously until the mixture starts to thicken, do not stop stirring
Once your mixture is smooth, add in the butter, small nobs at a time and take it off the heat
Whisk the egg whites until soft peaks
Add in the 15 ml of sugar and continue to whisk until stiff peaks
Fold in the stiff egg whites until light are airy
Pour the filling into the prebaked crust and bake 10 – 15 min until slightly golden. Turn the oven off and leave the milk tart in the oven to cool off
Once it's cold enough to handle with bare hands, remove from the oven
Dust over some ground cinnamon and enjoy! You can serve it warm if just can't wait or leave it in the fridge to cool down

***

'BIG MAC' BOERIE WITH TIGER BRANDS CULINARY PANTRY STAPLES
Sayish Naidu, eCommece Manager at Tiger Brands, chose an all-round South African favourite for Heritage Month – Boerewors – but with a twist which takes inspiration from the world's number 1 burger, the Big Mac. Sayish says what sets it apart from the rest is its unique sauce, a copycat version he discovered and made with much on offer in the Tiger Brands homegrown product stable and are pantry essentials in local homes. Combined with a growing trend for 'boerie' burgers, Sayish pulled out his braai gear and served up his 'Big Mac' Boerie this Heritage Month.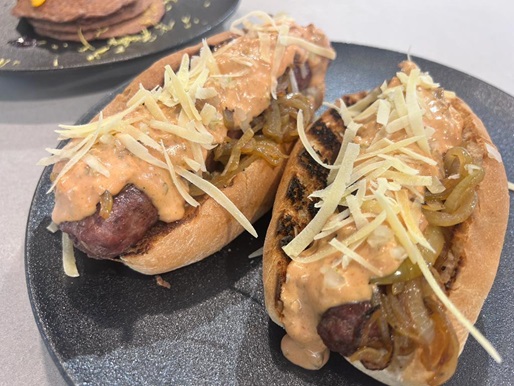 Ingredients
Sauce:
2 tbsp Cross & Blackwell Mayonnaise
1 tbsp All Gold Tomato Sauce
1 tbsp Colemans Dijon Mustard
1 tbsp hot sauce of your choice (e.g. tabasco, sriracha)
½ teaspoon salt, pepper, paprika and onion powder
1 large dill gherkin finely chopped and a tablespoon of liquid/brine from gherkins
¼ onion finely chopped

Method
Combine and mix well

Onions:
1 large white onion chopped lengthwise
Salt, pepper to taste
1 tbsp white vinegar
1 tbsp Colemans Worcestershire Sauce

Method
Cook onions in pan on low heat and add vinegar and let the onions dry out then add Coleman Worcestershire Sauce and cook until softened.

Serve braaied wors of your choice on a roll and top with sauce, onions, and a sprinkle of grated cheese (optional).

***

'COLOUR BLOCKED ROBOT' QUICK COOK SAMP FOR A HEARTY TRADITIONAL MEAL

Amukelani Kweyama, a Development Specialist at Tiger Brands, says that growing up in Phalaborwa, you would think that Samp was a staple in her family home. However, having a mother who was a dedicated teacher and who made a 120km commute to work daily, it was instead 'quick meal fixes' she chose over hours of cooking. More than anything this allowed her to spend more time with her family after a long day of travelling. As a young Makoti today, Amukelani holds the same family values as her mother, only this time around products like ACE Quick Cook Samp allows her the freedom to indulge herself and her little family in her childhood desire for the homely goodness of Samp but without the time-consuming preparation her mother could not afford when she was growing up.
Amukelani's 'Colour Blocked Robot' Savoury Samp offers a Heritage Month meal that is a vibrant, modern, and tasty take on the traditional.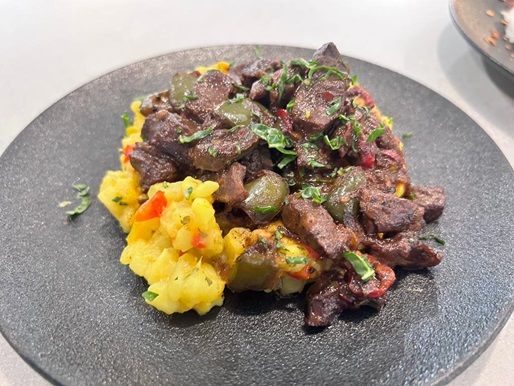 Ingredients
500g ACE Quick Cook Samp
1packet Benny Chicken Stock Powder (17g)
2tbsp of Butter
1tbsp Tumeric
1tsp Paprika
1tsp Salt
Half cubed cut Red, Yellow and Green Pepper
1tbsp Dried Parsley
1tbsp Dried Oregano
10ml Cooking Oil

Method
Rinse the Samp thoroughly in lukewarm water
In a pot, cover with water and bring to boil, cooking for 30 – 40 minutes
Add turmeric, Butter and Saltto the boiling Samp
In a pan, warm oil and sauté the 'Robot' peppers with paprika, parsley and oregano
Once the Samp is cooked through, slowly fold inthe pepper mix into the pot
Serve warm with a meat stew of your choice and with seasonal vegetables