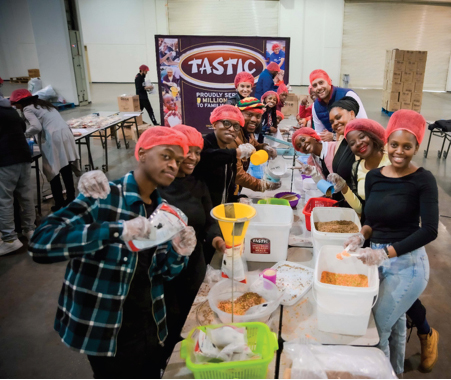 15 July 2022, Johannesburg:
Adequate nutrition is a critical part of health and development and without the essentials, malnutrition presents significant threats to human health. Tastic Rice in collaboration with Rise Against Hunger celebrated Mandela day by packing over 300 000 meals. These meals will be distributed to Early Childhood Development centres which RAH Africa supports. The ECD Connect program links good nutrition with education for thousands of children during their developmental years.
The objective of Mandela Day is to inspire individuals to take action to help change the world for the better, and in doing so build a global movement for good. The 18th of July has become a national day of volunteerism, philanthropy and donating time, goods, resources and services to a variety of beneficiaries across the country.
"Tastic Rice in partnership with Rise Against Hunger continue to play a vital role in addressing issues relating to hunger, food insecurity and all forms of malnutrition. The importance of this auspicious day is that a real contribution has been made by mobilising the necessary resources and partnerships to address hunger and provide nutritious meals for those living in poor and disadvantaged communities". Says Thembi Sehloho, Marketing Director of Pasta and Rice.
Rise Against Hunger is a global movement that aims to end hunger by empowering communities, nourish lives and responding to emergencies. The non-profit organisation is dedicated to ending world hunger by 2030 in a sustainable manner through the support of it beneficiaries.
CEO Brian Nell says, "Rise Against Hunger provides an opportunity for volunteers to play their role in showcasing acts of kindness to benefit those in need. We are proud of how far the organisation has come through the assistance of partners like Tastic rice.
"This year, Rise Against Hunger Africa will host several events nationally in recognition of the life and service of Nelson Mandela. These events provide a platform for corporate volunteers to give 67 minutes of their time and pack nutritious meals.
ABOUT TASTIC RICE
TASTIC Rice is the ultimate versatile comfort food. Our promise that TASTIC Rice cooks perfectly every time is a promise that we have stood by with pride ever since our parboiled rice was introduced to South Africa and to your dinner table in 1961. We love being an integral part of the delicious meals you serve your family. The TASTIC Flavoured Rice range is made with your everyday lifestyle needs in mind to give you flavourful meals that are delicious and convenient to prepare. We share your passion for food and are constantly thinking up new ideas to make your meals even more delicious.
For more information, please contact Tiger Consumer Brands Customer Services on (+27 ) 0860 121 344.